IT Senior Project & Advancing Services Manager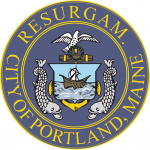 Website City of Portland
Municipal Government for Maine's largest City.
IT SENIOR PROJECT & ADVANCING SERVICES MANAGER
Information Technology Department – Deadline Extended –
This position is a hybrid of people management and hands-on project and project portfolio management.  This position will manage up to 5 direct reports, manage 2-3 key departmental relationships with focused IT Service Management and the IT Project Portfolio.  This position will manage key vendor relationships vital to IT project work.  Employees in this classification will improve on or develop standards for IT Service Management supportive to key departments and public administration in general.  They will spend about 25% of their average workday in each of the 4 areas: People Management of the IT Advancing Services Team; IT Project Management; IT Service Management and other assorted initiatives.   This position reports to the IT Director.  This position manages the IT Advancing Services Team.
Essential Duties and Responsibilities:  Manage and develop direct reports through daily work and opportunities within departmental change initiatives and projects.  Process staff management and recruitment transactions within Tyler and other business systems or manage these functions as delegated to others.  Manage key vendors and large-value procurements.  Manage IT projects portfolio with monthly report-outs.  Create, and share with colleagues managing projects, standards for project management in alignment with PMI principals.  Service key internal department relationships in support of compliance, procurement, IT projects & ITSM, with at least quarterly report-outs.  Attend meetings and trainings for enterprise or department information and for skills development/performance management.  As Tier 2 or Tier 3 escalation from customer service (helpdesk), work with Vendor agents to troubleshoot and fix as incident (break-fix) response.
Requirements of Work:  Tyler applications.  Spreadsheets for analytics/data validation.  Common project vernacular and tools.  Project Portfolio reporting.  ITSM/ work order systems such as BMC Track-It.  Formal change management process.  Google productivity tools or MS Office.  Information Security best practice (incl but not limited to NIST, CJIS, HIPAA, PCI, municipal).  Knowledge of municipal government functions; 5+ years experience in project management, ideally within the IT industry; 3+ years people management experience.  Attention to detail and high degree of focus and concentration to achieve complex tasks independently.  Communication with technical and non-technical colleagues about technical issues.  Execution of performance measurement and decision support with business diagrams and effective meetings to identify and address barriers to project success and/or multi-department collaboration.  Works collaboratively with others, putting the purpose of the role and the team before personal advancement.  Committed to people development and supporting technical staff.  Follows instructions, asks clarifying questions, considers multiple solutions to problems, delivers correct work on time by prioritizing, using time management, prioritization and customer service/negotiating skills.  Excellent customer service.
Necessary Special Requirements:  Must possess valid State Class C driver's license.  Offers of employment are contingent upon completion of satisfactory criminal background check.
Salary range: $70,968 to $87,273 annually.
Accepting applications through Friday, June 24, 2022. 
To APPLY for this position please click here:  https://selfservice.portlandmaine.gov/ess/EmploymentOpportunities/JobDetail.aspx?req=404&sreq=1&form=5000&desc=IT%20SENIOR%20PROJECT%20&%20ADVANCING%20SERVICES%20MANAGER
City Benefits –
Permanent, full-time employees receive a generous benefits package which includes 13 ½ paid holidays; employee health insurance; sick and vacation leave; optional life, dental, vision and income protection insurances; choice of retirement plans; and tuition reduction program with the University of Southern Maine.  Part-time employees may receive a pro-rated benefits package which may include some, but not all, of the benefits listed above.
The City of Portland is strongly committed to diversity in its workforce.
Women and Minorities are encouraged to apply.
We are an Affirmative Action/Equal Employment Opportunity employer.
For questions contact Human Resources by email at jobs@portlandmaine.gov or 207-874-8624.
City Job Opportunities Website:  www.portlandmaine.gov/Jobs
***COVID-19 Vaccine Mandate***     As a condition of employment, you must demonstrate proof of being fully vaccinated for COVID-19 prior to start of employment.  If you cannot get vaccinated due to a medical condition or a sincerely held religious belief, you may request an exemption as a reasonable accommodation.  Failure to provide proof of vaccination will result in your exclusion from employment with the City of Portland.