Parking Control Officer (Tuesday-Saturday)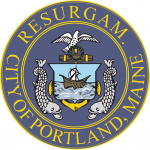 Website City of Portland
Municipal Government for Maine's largest City.
PARKING CONTROL OFFICER (TUESDAY-SATURDAY)
Parking Division
– Schedule is Tuesday thru Saturday 9:30AM to 5:30PM, Full-Time (37.5 hours/week) –
Enforces City parking ordinances; tickets and tows vehicles in violation of said ordinances; tactfully explains reasons for citations to customers; provides directions and information to the public; performs other duties related to parking operations.  Requirements:  Previous customer service experience and excellent customer service skills; ability to follow oral and written instructions; ability to work independently; familiarity with Word and Excel; knowledge of or the ability to learn both the layout of the City and two-way radio communication procedures; ability to perform light physical work with frequent standing and walking, reaching, stooping, lifting/carrying objects weighing 25 lbs., and field of vision to move quickly or to stand in traffic and avoid being hit by vehicles; ability and willingness to work in varied weather conditions; ability to pass pre-employment physical assessment; must possess valid Maine Class C driver's license (must provide license number); must have and maintain a good driving record.  Offers of employment are contingent upon the completion of a satisfactory criminal background check.
CEBA Union position – Grade 10 – Salary range starting at $751.13/week ($20.03/hour).
Accepting applications for this position until Tuesday, March 21, 2023. 
To APPLY for this position, please click here:  https://selfservice.portlandmaine.gov/ess/EmploymentOpportunities/JobDetail.aspx?req=404&sreq=2&form=1000&desc=PARKING%20CONTROL%20OFFICER%20-%20TUESDAY-SATURDAY
City Benefits
Permanent employees receive a generous benefits package that includes paid holidays; employee health insurance; sick and vacation leave; optional life, dental, vision and income protection insurances; choice of retirement plans; and tuition reduction program with the University of Southern Maine and Thomas College.
The City of Portland is strongly committed to diversity in its workforce.
Women and Minorities are encouraged to apply.
We are an Affirmative Action/Equal Employment Opportunity employer.
***COVID-19 Vaccine Mandate***    For the safety of our employees and our constituents, the City of Portland requires that new employees be fully vaccinated against COVID-19 prior to the start of employment.  Candidates may request an accommodation for medical reasons or sincerely held religious beliefs at the conditional offer stage.
For questions contact Human Resources by email at jobs@portlandmaine.gov or 207-874-8624.
City Job Opportunities Website:  www.portlandmaine.gov/Jobs.