Shelter Security Guard, Oxford Street Shelter (Thursday-Saturday)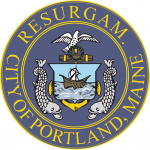 Website City of Portland
Municipal Government for Maine's largest City.
SHELTER SECURITY GUARD – OXFORD STREET SHELTER (THURSDAY-SATURDAY)
Health and Human Services Department – Social Services Division – Oxford Street Shelter
– Full Time, (37.5 hours/week), Permanent Position – The schedule for this position is Thursday – Saturday, 07:00 am – 08:00 pm –
The City of Portland, Social Services department is seeking security guards who will staff our new Homeless Services Center on Riverside Street. By joining our team, candidates will be responsible for using shelter protocols to greet facility guests, perform scheduled and random searches during check-in/open hours times and by staff request.  Shelter Security Guards will also help with guest or visitor concerns and conflicts, work with our team of staff to help clients in crisis, assist in emergency situations, and report any suspicious activity. The ideal candidate for this position has a professional disposition and excellent customer service skills. We are seeking candidates who are able to stay calm and de-escalate crisis situations, and can keep professional boundaries with clients.  This is an active position, requiring standing on your feet for long periods of time. We are looking for applicants who have previous experience with vulnerable populations and experience with documenting incidents. These positions work in a fast-paced environment, focused on serving clients needs so the ability to communicate clearly and effectively with diverse community members is a must.  Offers of employment are contingent upon the completion of a satisfactory criminal background check.
CEBA Union position – Grade 8 – Starting pay rate $18.47/hour.
Accepting applications for this position until Friday, March 31, 2023.
To APPLY for this position, please click here:  https://selfservice.portlandmaine.gov/ess/EmploymentOpportunities/JobDetail.aspx?req=409&sreq=2&form=1000&desc=SHELTER%20SECURITY%20GUARD-OXFORD%20STREET%20SHELTER%20(THURSDAY-SATURDAY)
City Benefits
Permanent employees receive a generous benefits package that includes paid holidays; employee health insurance; sick and vacation leave; optional life, dental, vision and income protection insurances; choice of retirement plans; and tuition reduction program with the University of Southern Maine and Thomas College.
The City of Portland is strongly committed to diversity in its workforce.
Women and Minorities are encouraged to apply.
We are an Affirmative Action/Equal Employment Opportunity employer.
***COVID-19 Vaccine Mandate***    For the safety of our employees and our constituents, the City of Portland requires that new employees be fully vaccinated against COVID-19 prior to the start of employment.  Candidates may request an accommodation for medical reasons or sincerely held religious beliefs at the conditional offer stage.
For questions contact Human Resources by email at jobs@portlandmaine.gov or 207-874-8624.
City Job Opportunities Website:  www.portlandmaine.gov/Jobs.