Staff Counselor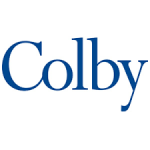 Website Colby College
Founded in 1813, Colby is one of America's most selective colleges. Serving only undergraduates, Colby's rigorous academic program is rooted in deep exploration of ideas and close interaction with world-class faculty scholars. Students pursue intellectual passions, choosing among 58 majors or developing their own. Independent and collaborative research, study abroad, and internships offer robust opportunities to prepare students for postgraduate success. Colby is home to a community of 2,000 dedicated and diverse students from around the globe. Its Maine location provides easy access to world-class research institutions and civic engagement experiences.
In a period of fast-paced progress, Colby is building on its strong foundation while remaining committed to excellence, to supporting students and faculty at the highest levels, and to the College's deep liberal arts traditions. This new chapter includes the creation of innovative academic initiatives and partnerships, strengthening the connections between the liberal arts and the professional world, revitalizing downtown Waterville, and pursuing significant capital projects for performing arts and athletics. Colby invites applicants to apply for the position of:
Staff Counselor
Counseling Services
Full-Time, 10-Month, Exempt, Salaried, Administrative Staff Appointment
Colby College invites applications for a staff counselor position in Counseling Services. We are a collegial, diverse department who engage one another and our campus partners with mutuality and shared enthusiasms for the dynamic community of highly engaged students, faculty, and staff with whom we have the privilege to work. Our staff are committed to continually developing the knowledge and skills required to work effectively with an ever-changing and diverse College community. Further, Counseling Services is a very busy center; like most college counseling centers, clinical acuity and associated demands can be high. Nevertheless, we are a team for whom the sacredness of each clinical encounter is not lost among these demands of care.
The staff counselor's responsibilities at Colby include a balance of individual and group counseling, consultation, crisis management, mentorship and supervision of trainees, and creative, intentional outreach and prevention programming to the campus community. As college counseling staff are increasingly sought to support students in this rich and tumultuous developmental stage, it is incumbent upon counseling center professionals to have interdisciplinary facility with complex, multifaceted, intersectional student identity development. As such, the staff counselor will strive to imbue their work with both explicit and implicit commitments to the lens of intersectionality.
This full-time, 10-month position has a preferred start date of August 2, 2021. A competitive salary, benefits, and professional development funds are provided. Onboarding for our professional staff is intentional, scaled to the ability/interests/experiences of the professional, and completed in the context of its own intersectional and developmental frame. We encourage inquiries from candidates who will contribute to the diversity of our College, including its cultural and ethnic diversity.
ESSENTIAL FUNCTIONS AND RESPONSIBILITIES:
Provide individual and group counseling and crisis intervention for a diverse population of undergraduate students
Work collaboratively with staff and student leaders to develop and implement innovative and effective psychoeducational programming
Provide clinical consultation for faculty/staff, students, and concerned others
Engage in outreach and liaison efforts with the broader campus community, with an emphasis on building relationships with Colby students from traditionally underrepresented and underserved groups
Serve as an ambassador of the intersectional frame on human development in interactions/outreach across campus
Provide mental health related trainings on campus, including student hall staff trainings and gatekeeper trainings
Serve on a limited on-call rotation; provide backup coverage to contracted, after-hours crisis support provider
Keep complete, timely records of clinical activities
Perform additional duties as assigned; duties, responsibilities, and activities may change at any time with or without notice
QUALIFICATIONS:
Doctoral degree in clinical/counseling psychology, or master's degree in social work or counseling required
Licensed, or license eligible, as a psychologist, clinical social worker, or professional counselor in the State of Maine required
At least one year of experience working with emerging adults in a college mental health setting, including experience developing and presenting innovative psychoeducational programming preferred
Experience and proficiency in working with a diverse client population, including, but not be limited to, addressing issues of race, culture, religion, gender identity and expression, sexual orientation, ability, and issues related to resources and access
A generalist professional orientation with solid clinical skills and the ability to assess and treat a wide range of presenting concerns
Excellent interpersonal, written, and verbal communication skills
Proven organizational skills, time management, and attention to detail
Creative energy around and enthusiasm for working with students in a small, liberal arts college community
Ability to make an impact through work as a member of a team and diverse community
KEY RELATIONSHIPS:
Reporting to the director of Counseling Services, this position interacts with students, faculty, staff, and outside constituencies.
WORKING CONDITIONS/PHYSICAL REQUIREMENTS:
General open office and campus environment. Position involves sitting, although frequent movement is necessary. Computer usage involving repetitive hand/wrist motion is also necessary.
TO APPLY:
Interested candidates should apply electronically by clicking the "Apply" button on the Colby Careers website. Please submit a letter of interest including salary requirements, resume, and the contact information of three professional references. Materials should be addressed to:
Staff Counselor (Counseling Services) – Search Committee
Office of Human Resources
Colby College
5500 Mayflower Hill
Waterville, ME 04901-8855
A review of applications will begin immediately and will continue until the position is filled.
Colby is a private, coeducational liberal arts college that admits students and makes employment decisions on the basis of the individual's qualifications to contribute to Colby's educational objectives and institutional needs. Colby College does not discriminate in its educational programs or employment on the basis of race, color, gender, sexual orientation, gender identity, disability, religion, national origin, age, marital status, genetic information, or military or veteran's status. Colby is an equal opportunity employer and operates in accordance with federal and state laws regarding non-discrimination. Colby complies with Title IX, which prohibits discrimination on the basis of sex in an institution's education programs and activities. Questions regarding Title IX may be referred to Colby's Title IX coordinator or to the federal Office of Civil Rights. We encourage inquiries from candidates who will contribute to the diversity of our College, including its cultural and ethnic diversity.
For more information about the College, please visit our website: www.colby.edu.