Assistant Town Clerk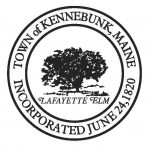 Website TownofKennebunk Town of Kennebunk
Municipality serving Kennebunk residents.
The Town of Kennebunk is seeking a part-time Assistant Town Clerk in the Town Clerk's Office. This position supports the office with various activities, the main duty being assisting the public in person at the counter. The position is regular part-time, working a weekly schedule of 3 days/week, 7:45 am – 3:00 pm, and may occasionally work additional hours during elections or to provide office coverage during planned staff absences.
For more information about the Town of Kennebunk, visit our website and watch our recruitment video, Come Work With Us!
Position Requirements
High School Diploma or equivalent required, with a college degree in a closely related field preferred;
A minimum of three (3) years of related municipal experience or clerical/office work of a progressively responsible nature dealing with the public required;
Strong proficiency in various software applications including Outlook, Microsoft Office suite, etc. required;
Any equivalent combination of training and experience that provides the necessary knowledge, skills, and abilities may be considered.
Pay & Benefits
This is an hourly, non-exempt position with a starting pay range of $19.33 – $22.85/hour, based on demonstrated knowledge, skills, and abilities and work experience. The Town offers regular part-time employees benefits and paid time off including 2 personal days and 1 floating holiday to use anytime upon hire within the calendar year, 1 sick day per month and accrue weekly vacation. See the Benefits Summary (PDF).
How to Apply
Interested candidates must submit a resume, cover letter and employment application to meet application requirements. Please submit the application and any supplemental materials online through the Town's Career Portal. Paper copies of the employment application are available upon request. If you have questions or need assistance with the application process, please contact Human Resources via email or call (207) 604-1382.
The deadline to apply is April 5, 2023.
Diversity, Equity, and Inclusion & Equal Opportunity Employer Statements
The Town of Kennebunk is committed to fostering, cultivating, and preserving a culture of diversity, equity, and inclusion.  As a service organization, we recognize that our most valuable asset is our employees.  We encourage our employees to embrace and share their life experiences, inventiveness, innovation, self-expression, and unique capabilities so that we may all better understand and learn from each other.
As an Equal Opportunity Employer, the Town of Kennebunk shall employ, upgrade, and promote the best qualified person(s) who are available at the salary level established for the position, without discrimination as to race, religion, age, sex, physical or mental disability, sexual orientation (including gender identity and expression), national origin or ancestry, marital status, citizenship, genetic information, protected veteran status, color, political affiliation, whistleblower activity, or any other status protected by law.